Florida may be known as the Sunshine State, but we sure do get our fair share of wet weather.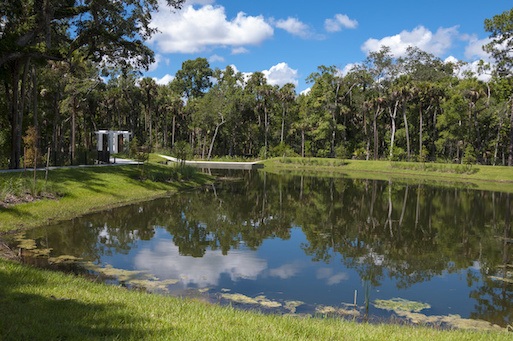 The storms that come through Florida leave plenty of rain on the ground, but it doesn't always get washed away. This is where stormwater retention ponds come in! You may have noticed these small ponds on the side of the highway when you're traveling, especially alongside the interstate. What exactly is the purpose of these retention ponds? We'll figure that out and then some for you here!
A stormwater retention pond is a body of water where stormwater runoff is collected. Without these ponds, stormwater can cause significant chaos on our local bodies of water (lakes, ponds, rivers, streams, etc.) and our sewer system. Stormwater can carry some nasty things with it that it comes in contact with after it hits the ground, and these are things no one wants near their water supply or a local swimming area. Especially not something that needs to be introduced into a fragile ecosystem of aquatic life that could be living in these local bodies of water.
The retention ponds hold the stormwater runoff and slowly release it in a way that doesn't cause flooding or erosion of any sort. This saves the hassle of having to deal with water runoff that has been through who knows what because you can see where the water is being collected. These ponds also act as a purifier of sorts to make sure the stormwater is no longer contaminated as it is slowly released back into the water supply. This all works through a series of underground piping that collects the stormwater and diverts it to the retention pond that is typically close by.
Retention ponds are incredibly crucial in keeping Florida's natural beauty alive and well. Just make sure you don't take a dip in one on a hot day!