Many manatee deaths are directly attributed to water control structures, these gates will ensure that systems continue to operate all while protecting the natural species that inhabit our environment. ECI can custom fabricate a manatee gate using aluminum, steel or stainless steel, to meet your requirements.
FDOT Index 430-001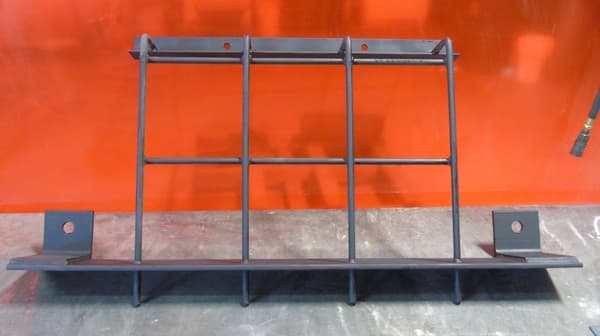 Environmental Composites, Inc. manufactures ENVIRO PIPE AT GUARD ENDS Manatee Gates, specified to FL DOT Design Standards (Index 430-001). These products are available painted or galvanized in the sizes specified by the customer.
Custom Manatee Gates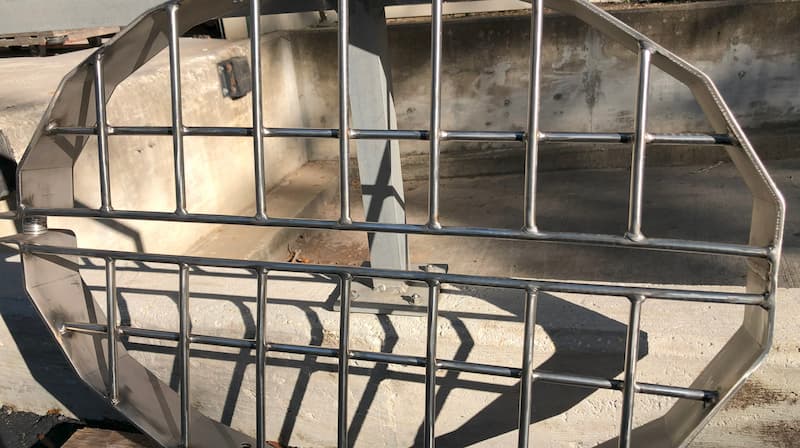 ECI can custom fabricate a manatee gate using aluminum, steel or stainless steel, to meet your requirements.
ECI Hinged Manatee Gate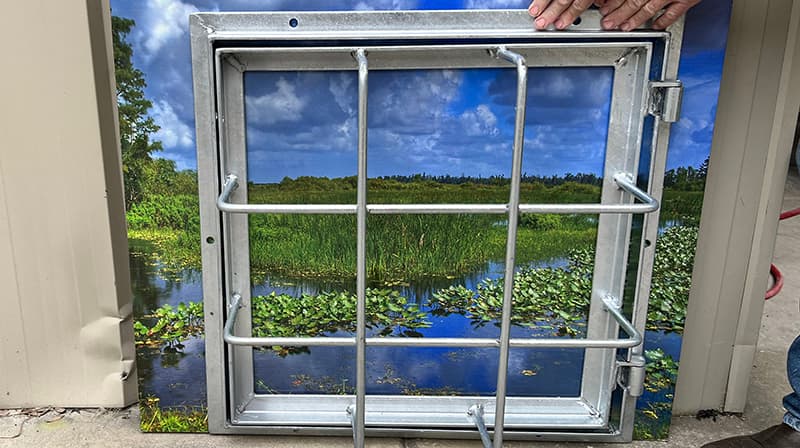 ECI designed gate that makes debris removal easy.
The perfect solution for routine maintenance!
Please contact us today at (352) 343-3449 or reach out to us on our online contact form to learn more about manatee gates and how they can be used in your project.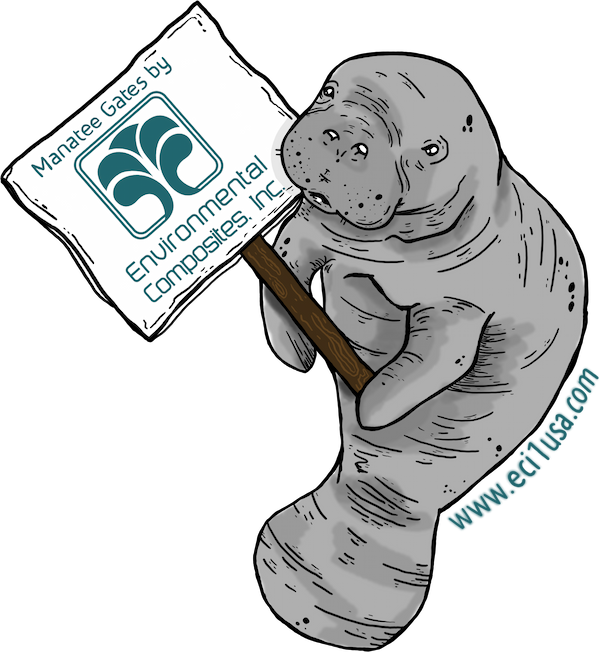 Our Gates: Port Canaveral Welcome Center
Manatees are protected, endangered species in Florida. Brewer Paving & Development contracted with County Materials' Florida location recently to supply reinforced concrete pipe for a gate project designed to prevent the manatees from entering the Port Canaveral Welcome Center and getting caught in waterways. Rick Bolinger, (Pipe Sales Representative, Astatula, FL) suggested incorporating stainless steel cages with various sizes of reinforced concrete piping, including 60" flared end sections. Rick contacted Environmental Composites to provide shop drawings and stainless material to build and install the cages. County Materials and Environmental Composites employees are proud to be providing one-of-a-kind stainless, reinforced pipe for this innovative project that is protecting an endangered species.
Did you know...
In 2019 the FWC recorded 5,733 Florida Manatees.
Manatees cannot tolerate temperatures below 68° F (20° C) for long periods of time.
Manatees have no natural enemies, and it is believed they can live 60 years or more.
The cow-like creatures are thought to have inspired mermaid legends.
They eat more than a 10th of their weight in food every day.
You can help protect manatees in many ways.
If there is a wildlife emergency, please use the following information:
Report injured, orphaned, entangled, distressed or dead manatees to the FWC. Call the Wildlife Alert Hotline at 888-404-3922.
Early reporting sets the rescue team in motion so that the animal(s) can be saved. Other ways to help include individual, family or community activities that enhance manatee habitat, safety or support (FL Fish & wildlife Conservation Commission).
Related Products - Manatee Gates