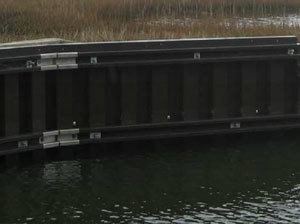 Wale and retaining wall systems provided by Environmental Composites are manufactured with state of the art thermoset resins and high strength E-glass. This makes these products durable and able to stand the test of time in your marine or dock project.
These systems eliminate the need for timber, steel or concrete wale sections. Furthermore, they will not rot, rust, spall or succumb to marine borers.
They have the additional flexibility of being installed above or below the waterline or in the transition area.
Please contact us today at (352) 343-3449 or reach out to us on our online contact form to see if our wale and retaining wall systems are right for your project.
Documents
Wale & Retaining Wall System Brochures
Related Products - Wale & Retaining Wall Systems