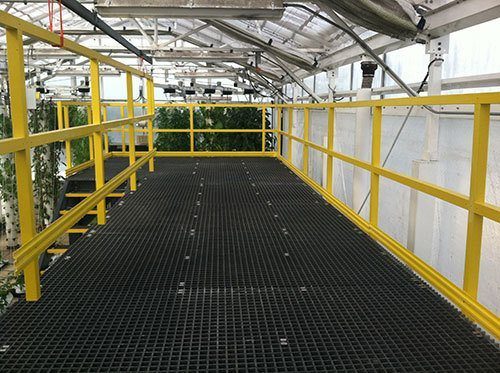 Industrial fiberglass platforms offer a non-conductive and non-slip surface which provides a safe working environment. These platforms are lightweight and easily assembled. The fiberglass reinforced plastic handrails are safe, OSHA compliant, corrosion resistant, and virtually maintenance free.
All of our fiberglass platforms are custom manufactured using our CAD design process to accurately meet the application requirements. All platforms are tested to ensure quality before being shipped to your site. Further, the lightweight characteristic of structural fiberglass facilitates easy on-site assembly and reduces shipping costs.
While their uses can vary, our platforms are commonly used in the following applications and industries:
Food & Dairy
Water Treatment
Chemical Plants
Cooling Towers
Wastewater Treatment Plants
and Many More Applications!
Please contact us today at (352) 343-3449 or reach out to us on our online contact form for more information about our unique fiberglass platforms.